To answer this question, you need to know how search engines work. SEO is short for Search Engine Optimization. Optimizing a website for the search engines helps it rank better. Search engines use ranking algorithms to determine the results when you type in a search term, such as "key lime pie recipes." The search engines are always striving to give you the best results for what you're looking for.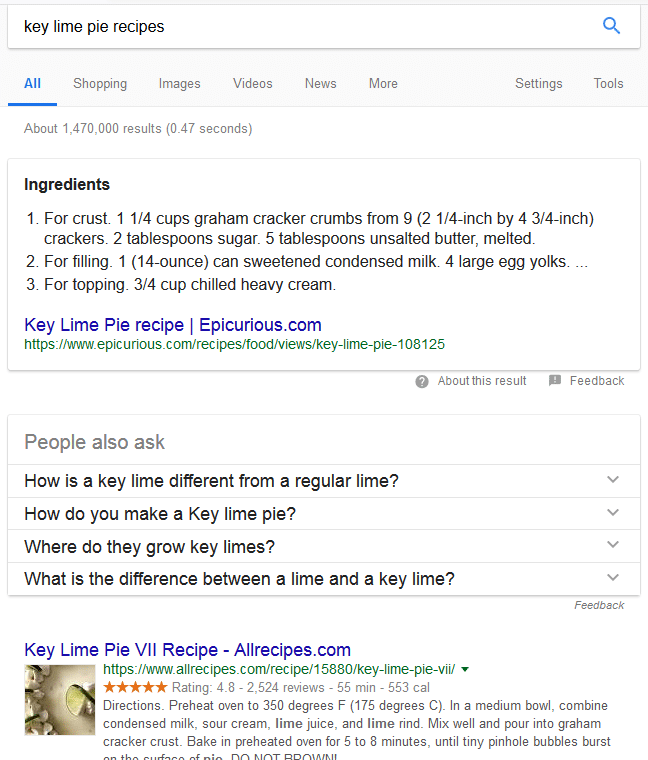 This search result from Google includes what's known as a featured snippet, which is a special block at the top of the search engine results page (SERP). The featured snippet has a summary of what we're looking for that was pulled from a web page that ranked at the top for this search term.
Not all search results have featured snippets. If you are looking for local dentists in your city, you might type, "dentists El Paso, TX."
The results for this search look very different. At the top of the SERP are the paid ads. These businesses are paying, or bidding, for their location for that search term. The more you bid for each click, called pay-per-click (PPC), the higher your ad will appear in the results.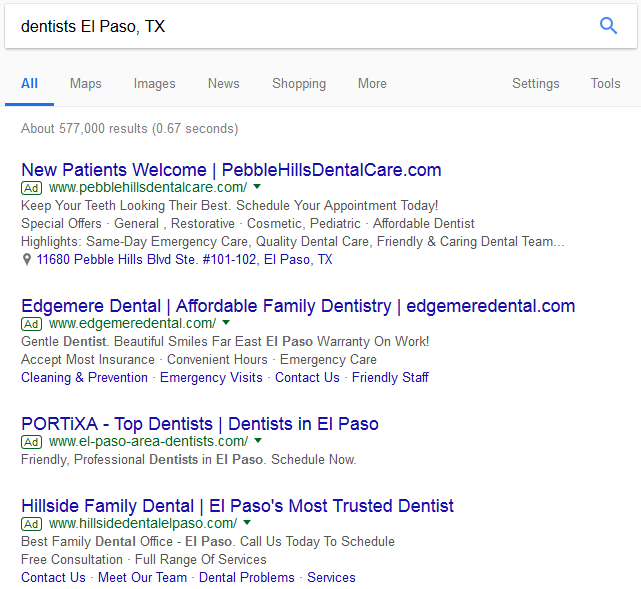 The next section of the SERP is called the local pack. This section shows several dentists in the El Paso area with their star ratings, a link to their Website, and a location map. It is very desirable for a local business to be listed in the local pack.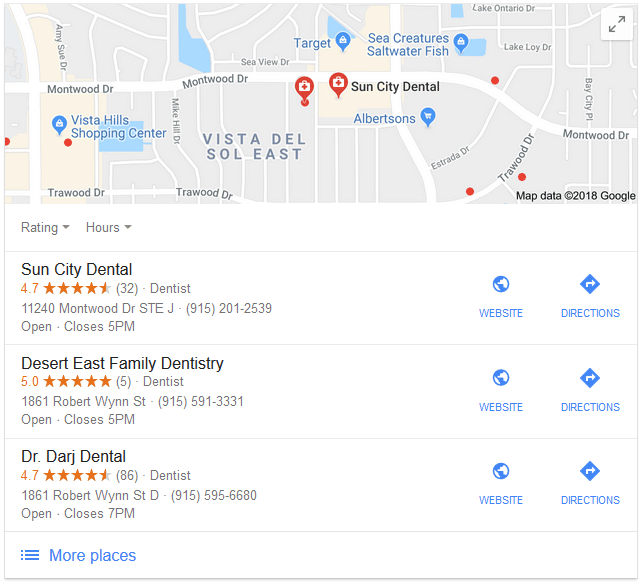 The next section of the page shows the organic search results. Google has determined that these five web pages are the next most important pages for the user's search term.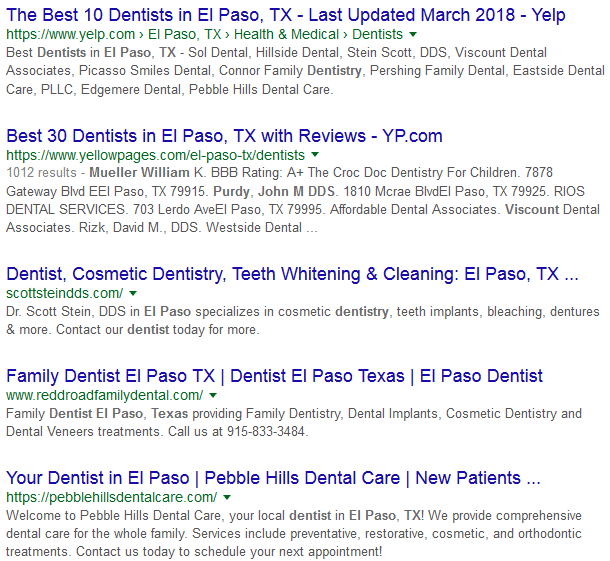 On the first page Google will show the top ten organic results. There may also be PPC ads at the bottom of the page.
The goal is to be at the number one position for this broad search term (dentists) as well as other search terms related to what the business offers.
If we type in "best dentist for kids" we get different results. These dentists are trying to rank for "kids."  This time I didn't include the city or state, but Google knows where my location is.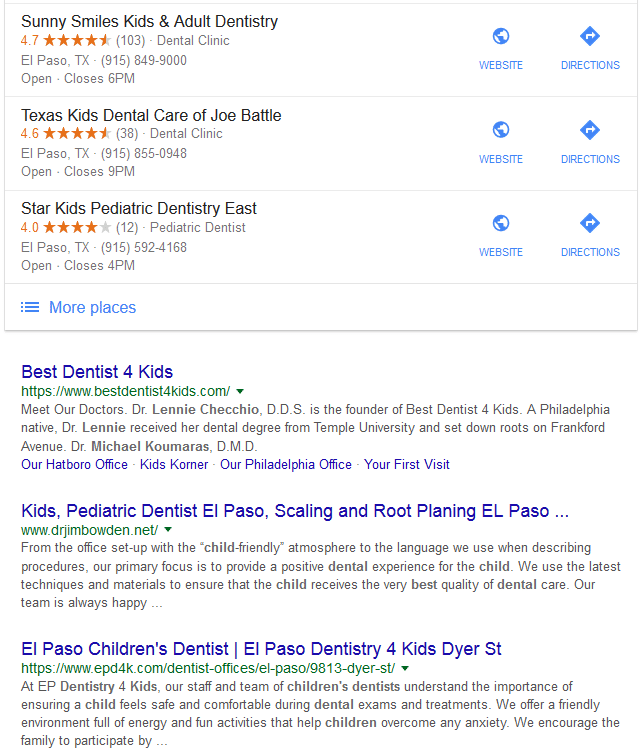 I have been using Google as an example. There are other search engines out there, but Google is by far the most popular. If you can rank well for Google you will rank for the other search engines.
How Do I Get on the First Page of Google?
Getting on the first page of Google requires search engine optimization (SEO). This is a process that allows pages on your website to be found, crawled, and indexed for search results. Google does offer Webmaster Guidelines for building Web pages that get indexed and ranked. Google doesn't tell us everything about their ranking factors, but we have a good idea of what they are looking for.
Before I get to the most important ranking factors for local search, a website should have the following items in its core structure.
Good keyword strategy

Good content with good keyword saturation

Responsive Website

Unique titles for each page

Business name included in each title

Link silo architecture

Good URL structure

Good internal linking

Good meta data

Alt tags in place

Site map

Schema markup

Google My Business and Bing Places for Business implemented

Website page speed (yes, it's a ranking factor for Google)
Even if you have all of these elements for your website perfect you still may not be ranking near the top. So, what else is needed for ranking on the first page of Google?
The Importance of Backlinks
According to the good folks at Moz the most important ranking factor are link signals (the quantity and quality of links from other websites linking to your site), at 29%. Backlinks has been an important ranking factor for a long time, and it's one of the more difficult ones to implement.
Google believes that if a website has a lot of inbound links, it must be trustworthy and has some authority, and hence it is ranked higher.
Local Organic Ranking Factors
Let's look at the other ranking factors, in order of importance.
On-Page Signals – Presence of NAP (Name, Address, Phone), keywords in titles, domain authority, etc. – 24%

Behavioral Signals – Click-through rate, mobile clicks to call, check-ins, etc. – 11%

Personalization  9%

Citation Signals -Internet directories/data aggregators, NAP consistency, citation volume, etc. – 8%

My Business Signals – Proximity, categories, keyword in business title, etc. – 7%

Review Signals – Review quantity, velocity, and diversity, etc. – 7%

Social Signals – Social media engagement, etc. – 4%
If all of this seems overwhelming to you, don't fret; that's where SEO specialists come in.
If you don't know anything about cars you take it to a mechanic. If you want a nice flower arrangement, you go to a florist.
The problem is, many business owners decide to build their own website and do the SEO themselves or have an employee that is not knowledgeable in this area do the work. Many times they do more harm than good. Their site ends up not being ranked well, or not at all.
With the tools available now, many people can create a beautiful-looking website, but has little or no traffic and has limited ways to do SEO. A website is the life blood of a business, but many business owners allocate meager funds for its implementation.
Getting on the first page of Google is only half the battle. Once visitors reach your site, you need to engage them so that they will become customers and repeat customers. That's where good content comes into play. Content also helps Google know what your site is about so it can show up in the SERPs.
At Blue Lacy SEO we know how to implement the proper techniques to move your site to the top of the rankings at affordable prices.