In this post I am going to show you how to conduct an audit on your website to improve your SEO (Search Engine Optimization) so your site can show up in the search engine results pages (SERPs).
What is a Website Audit?
A website audit is a technical report card that gives you an overview of the SEO efficiency of your site. Specialized software and the trained eyes of SEO professionals can pinpoint areas of a website that need attention.
Applications to Analyze and Audit your Website
I am going to use a fairly new website I created called M and R Tax Services as an example.
I ran my example website through the SEMrush free audit. You can see the results below.
The results show that this website scored a very commendable 95% score. But, this is a very basic and superficial audit.
For instance, the software only checks if I have any missing title tags, not exactly what the title tag is and if it's related to the main keyword I'm trying to rank for.
SEMrush does say at the bottom to start of full audit of your website by registering with them. They want your email so they can eventually get you to be a customer, which I understand perfectly.
Next, I tried SEOptimer, which gave the site an overall score of A-. As you can see in the screen shot below, I scored an A+ for SEO, but an F for Social. That's because I have no social media setup. The only external signal I setup is a Google My Business listing. I don't even have any citations, directories or backlinks.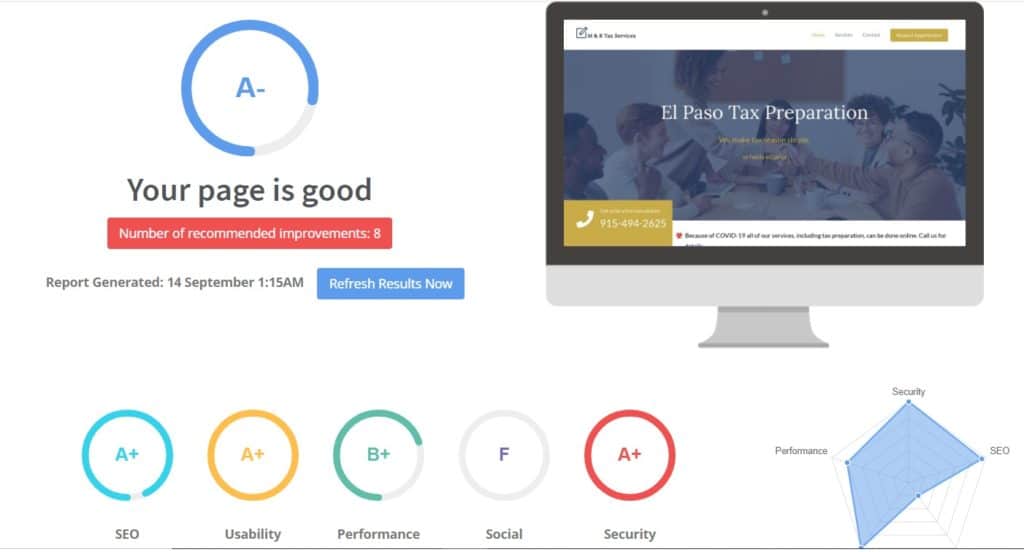 I got top scores for having a title tag for the homepage and having the proper length. And, I got top marks for a meta description of optimal length.
Again, the website is getting top marks for having a title tag and a meta description without knowing what keyword I am targeting. Not very helpful.
I got a low score for "keyword consistency." The analysis goes on to say, "Your page content should be focused around particular keywords you would like to rank for. Ideally these keywords should also be distributed across tags such as the title, meta and header tags."
So, what is this based on? How do they know what keywords I am trying to rank for? They show the frequency of words they found on the homepage, but how do they know the correct frequency of these words on the page? They make no mention of analyzing the competition.
Rankings
The software shows the site ranks for one keyword, M & R Tax Services, which is the name of the company. It ranks #53. This website does not rank for any other keywords. How do I know? Just look at Google Search Console.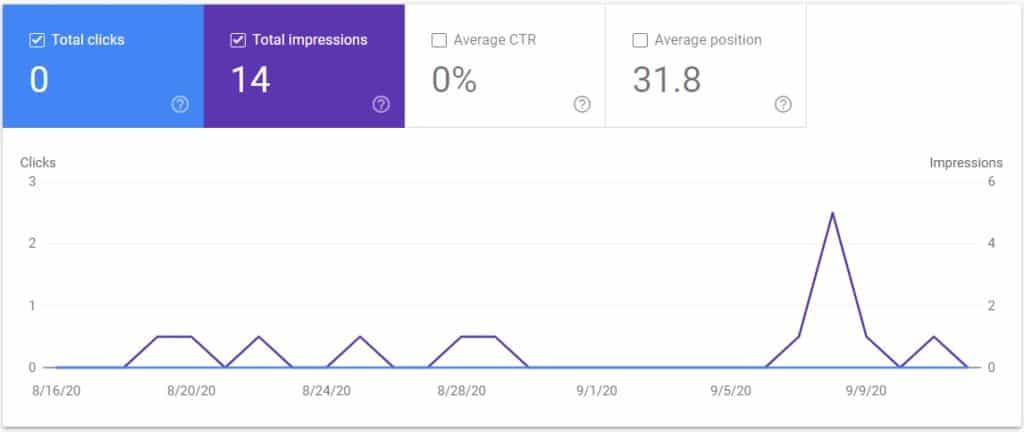 As you can see there are only 14 impressions and no clicks. This is showing the result for one keyword, "m and r", for the past 28 days.
The main keyword this site is trying to rank for is "El Paso Tax Preparation", but it's not ranking for that term yet. The site is about 5 months old, as of this writing.
So, you may ask, why isn't the site ranking with these high SEO scores? That's a good question. I will give you my answer at the end of this article.
This application is a favorite among SEO professionals and one that I use on a regular basis. If you are not that familiar with SEO, this one may be a little confusing.
This software downloads and runs from your computer.
After entering a website URL, this is the screen you see after it is crawled.

There are tabs at the top for:
Internal
External
Security
Response Codes
URL
Page Titles
Meta Description
HI
H2
Content
Images
Canonicals
Pagination
Directives
Hreflang
Once you select a URL, there are more tabs at the bottom of the page. Screaming Frog gives you a very detailed analysis of the technical aspects of your website. If you know how to interpret the results and fix any trouble areas, this is a very solid audit application.
This is one of my favorite tools for doing website audits. It is part of a larger suite of tools: Rank Tracker, SEO SpyGlass, and Link Assistant.
The free version is very robust but you cannot save or print the results. This one is also downloaded to and run from your computer.
To get started, you simply enter your website's URL and let it work.
If you don't understand The SEO terminology, Website Auditor does a good job of explaining the results.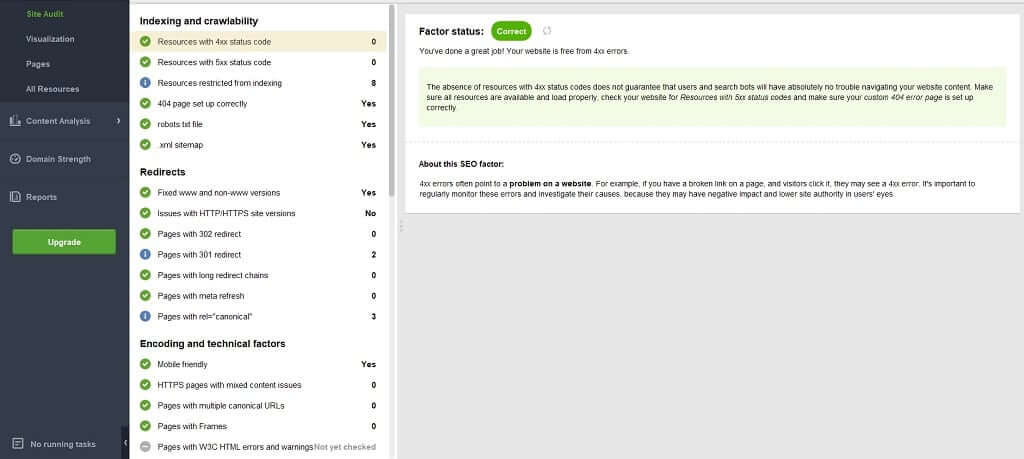 If you go down and click on each item in the list of scan results, it will explain what this factor is and why is matters for SEO.

The above screen shot explains the importance of not having 4xx errors and why it is an SEO factor.
Content Analysis
When you select Content Analysis, the software will prompt you to enter one or more keywords you are trying to rank for.
I entered only one keyword, "El Paso tax preparation" and clicked Create map.
The software will then use the keywords you entered and show how they rank on the Keyword Map page.
In the Page Audit section, you will be prompted to enter a URL and keywords to let WebSite Auditor find your best ranking competitors, analyze their content and provide you with a detailed report on how to improve each element of the page.
The software will start running the report with a progress bar at the bottom.
Here are the results for the mnrtaxservices.com page.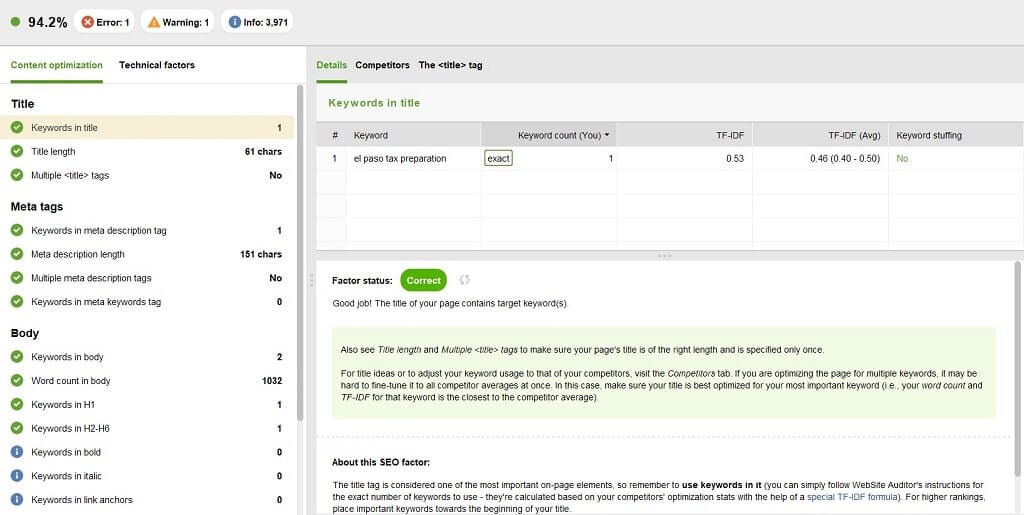 I received a 94.2% score, similar to the score I got in SEMrush.
A green check means everything is OK. The orange triangle are warnings and the blue circle is informational.
Again, the software explains the factor status and SEO factor.
Competitors
Clicking on this tab will show your competitors and how they are using some of the SEO factors. This is great for competitor analysis.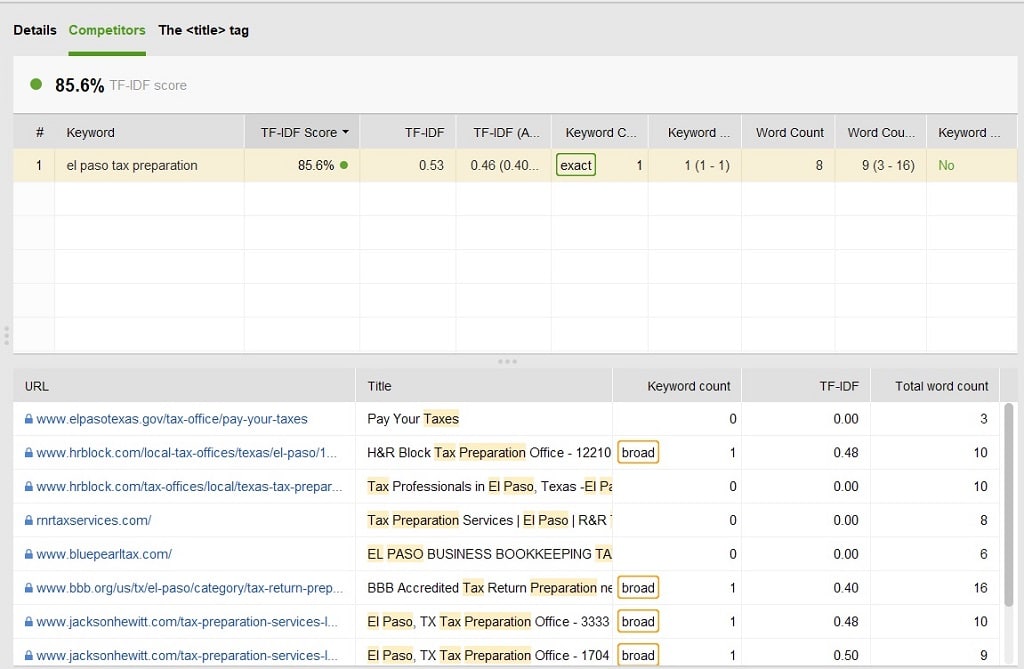 In the example above, it shows how the competitors to this website are using my keyword in their title tag.
There is also a TF-IDF score. This acronym is a weighting scheme that assigns each term in on a web page a weight based on its term frequency (TF) and inverse document frequency (IDF). A higher score indicates a better use of the specified keywords.
This web page received a score of 85.6% and an index score of 0.53. When compared to competitor scores, it appears this keyword is better optimized.
Of course, this is not the only ranking factor.
To see more features and analysis using Website Auditor, see the video, Conduct a Website Audit to Improve SEO.
Ranking with Authority
The tax website I created gets high scores for its on-page SEO, it has been out for several months, and has been indexed by Google. It barely ranks in the top 100 locally for its main keyword.
So, why doesn't this website rank higher?
It takes more than just normal SEO techniques to rank in a competitive niche. Websites now rank for their authority. What does that mean?
The top ranking competitors for tax preparation in El Paso are sites with a lot of authority. These include H & R Block, Jackson-Hewitt, and Liberty Tax. They rank high even if their SEO is not perfect because of their authority.
Increasing the authority of your website requires effort and time. Here are a few of the ways to increase authority.
Pick a Good Domain Name
Having your keyword in your domain name used to be a big ranking factor, but not anymore. It still gives some relevance. If your already have a domain name for awhile, don't change it.
Optimize Page Content
With software like Website Auditor, you can see how well your content is optimized vs. the competition and adjust it accordingly.
Create Linkable Content
This starts by creating up-to-date content related to what you do. Most commonly, this is done with blog posts or video. I believe video has more impact.
Internal Linking
Internal links helps to direct visitors to what they are trying to find, thereby improving their user experience. Link to your money page, which will usually be your homepage. Google will see this as your authority page.
Get Reviews
Get as many reviews as possible on Google My Business, Yelp, Trust Pilot, etc. This is definitely an authority builder and it will increase your sales.
 Promote Your Content on Social Media
If your make a video or create a blog post, promote it on your social media platforms.
I hope this helps you rank your website in the search engines.